Los Angeles Business Litigation Attorney
Protect the Success of Your Business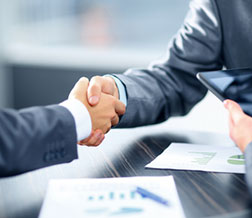 Business Lawyer for Complex Disputes
T. Joshua Ritz & Associates, Inc. Attorneys-At-Law provides vigorous representation for businesses involved in breach of contract, business tort, trade secrets, unfair competition and collection disputes. Our Los Angeles business litigation attorneys have litigation experience handling complex transactional disputes involving businesses ranging in size from private partnerships to large publicly traded corporations.
We fight hard to protect your interests.
Most business owners and executives ask us how much of an impact resolving their commercial litigation matter will have on running their successful company. We work hard to reach a solution that is best for you and your business. Whenever possible, Mr. Ritz will seek a resolution that keeps you out of court so you can focus your time and energy on running your business.
Contact our offices in Los Angeles, California, to schedule a consultation about our history of dispute resolution and courtroom success in business litigation matters.
Providing legal representation for business litigation cases such as:
Breach of Contract
Real Property Disputes
Interference with Business Advantage
Defamation
Unfair Competition, Competitor Disputes
Partnership Disputes
Construction Disputes
Commercial Collections
Contact us to schedule a consultation about your breach of contract dispute or other business litigation matter.