Los Angeles Wills and Trusts Attorneys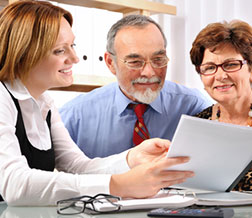 CA Estate Planning Lawyers
Caring for loved ones is part of estate planning by directing our assets and establishing guardianships for children or special needs adults. Any of us could suffer an accident or medical event without notice. Estate planning is about protecting ourselves in the event that we lose our mental capacity to care or make decisions for ourselves, protecting our dependents, minimizing taxes and administrative costs and finally ensuring the assets we worked our whole lives to accumulate end up where we want them to be after our death. Basic estate planning typically entails a revocable living trust, pour over will, power of attorney and an advance health care directive (sometimes called a living will). For a small fee, one of our skilled San Fernando Valley CA estate planning lawyers can prepare all of these documents for you.
Living Trusts, Health Care Directives, Wills
A living trust will avoid probate for all assets that have been transferred to the trust. Probate is a costly, time-consuming process that many estates do not need. A trust also can avoid a conservatorship, which is a court proceeding that is expensive, time-consuming and restrictive. Conservatorships are needed when an individual can no longer manage his or her financial affairs. A conservator is appointed by a court and given the power to manage the conservatee's financial affairs, and also make decisions concerning the conservatee's living arrangements. A properly prepared trust can provide a successor trustee who will manage the trust for the benefit of the trustor, sometimes avoiding the need for a conservatorship. For married couples with estates subject to the federal estate tax, a living trust can reduce or eliminate federal estate taxes by setting up an Exemption Trust.
The Advance Health Care Directive can be used to appoint a family member or friend to make health care decisions for you if you are physically or mentally unable to make those decisions yourself. Similar documents are also called Durable Powers of Attorney for Health Care. The directive appoints an agent (and backup agents) who will carry out your wishes for health care. The directive also describes how much, or how little, medical care you want. For example, the directive might include details about use of pain-relieving drugs, when treatment should be halted, and whether nutrition and hydration should be provided to the patient. The agent's authority to take action is triggered only by a determination that the patient lacks mental capacity.
A pourover will is like any other will, except that it has only one primary beneficiary, which is the testator's living trust. The pourover will transfers assets to the trust to ensure that these assets will be subject to the distribution plan in the trust and will also receive the benefit of trust's tax reduction provisions.
T. Joshua Ritz & Associates, Inc. Attorneys-At-Law is led by Mr. Ritz, who graduated from one of the top law schools in the country and worked for over a decade at the one of the nation's largest and most prominent civil litigation firms. Client service is a cornerstone of our practice and that means we are available to you 24/7. Contact a knowledgeable Los Angeles wills and trusts attorney at our Los Angeles firm by completing the e-mail form on this website or call us at 818.788.1123.