Winning CA Cases For Over 30 Years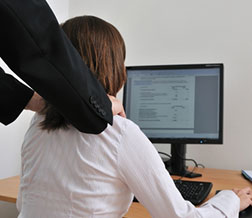 Our team has extensive experience prosecuting sexual harassment claims on behalf of employees.
The lawyer you choose to handle your claim is critically important. We carefully select our cases and refuse to be a factory mill. Our clients receive personal attention, zealous representation and individually tailored legal strategies. If we represent you, we will pursue your interests relentlessly because you deserve a lawyer who cares about you and the outcome of your case.
Southern CA Sexual Harassment Lawyers
If you believe you are the victim of any form of sexual harassment or gender discrimination, please send us an e-mail or call us right away at 818.788.1123 for a FREE CONSULTATION.  After an initial intake, an attorney will respond to your call right away. Mr. Ritz has over 30 years of successful litigation experience handling claims just like yours.
What Is Sexual Harassment?
Sexual harassment comes in many forms and may not include sexually explicit behavior. At its worst, your boss may deny you a job opportunity because of your gender or the refusal to submit to a sexual advance. On other occasions, sexual harassment or a gender-based hostile environment may include the sharing of pornography, unwelcome remarks and comments or an uncomfortable e-mail. Other times the hostile environment manifests as a sense of being excluded and treated differently because of your gender.
Sexual harassment is one of the worst violations of an employee's rights in the workplace. You should not tolerate sexual harassment in the workplace for one single moment. If you believe you are the victim of sexual harassment, you need to consult with a sexual harassment lawyer. Our consultations are at no cost to you. Call us now and speak to one of our Los Angeles sexual harassment attorneys.
Send an e-mail or call us to learn more about how we can help you fight for money damages for illegal actions such as:
What Makes Us Different?
Mr. Ritz is a skilled trial lawyer with over 30 years of experience. His abilities were honed by conducting defense work at one of the nation's most prominent civil litigation firms. His prior work for employers now benefits his employee clients because he knows the opposition's defense strategies and how to defeat them. We know that a successful sexual harassment or retaliation lawsuit doesn't always hinge on an obvious quid pro quo case. Sexual harassment is often subtle and may actually be the accumulation of a series of events, all leading to lost career opportunities or leaving you no choice but to quit your job.  Call us at 818.788.1123 or e-mail now to learn how we can help you.