Los Angeles Sexual Harassment Attorney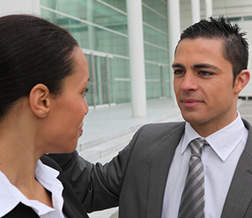 An employee's complaints to a supervisor or personnel within human resources regarding unlawful discrimination or sexual harassment is a "protected activity" and actions taken against the employee after such complaints may constitute retaliation. It does not matter if the employee's complaints are well-founded. A retaliation claim may be brought by an employee who has opposed conduct that the employee reasonably believes to be discriminatory or harassment, even if a court later determines the conduct was not actually prohibited by law. All that matters is the employee's complaint was made in good faith and was reasonable.
If you have made a complaint to your employer, you may be entitled to protection for any retaliation that occurs in response to your complaint.
Sherman Oaks CA Employment Lawyers
If you feel you are the victim of sexual harassment or retaliation for reporting harassment or some form of discrimination in the workplace, please contact one of our Sherman Oaks CA employment lawyers by sending us an e-mail or giving us a call at 818.788.1123.
After a brief initial intake, an attorney will consult with you right away. If we represent you, an experienced attorney will guide your case and be available to consult with you at all times.
DON'T LET SEXUAL HARASSMENT IN THE WORKPLACE GO UNCONTESTED. OUR LOS ANGELES SEXUAL HARASSMENT ATTORNEYS ARE FORCEFUL ADVOCATES THAT WILL HELP YOU ENFORCE YOUR LEGAL RIGHTS. IF WE REPRESENT YOU, WE WILL PRESENT YOUR CLAIMS WITH DEDICATION, DETERMINATION AND DILIGENCE. WITH MORE THAN 30 YEARS OF EXPERIENCE, WE KNOW HOW TO NAVIGATE YOUR CLAIM TOWARDS A SUCCESSFUL OUTCOME.