Los Angeles Sexual Harassment Attorney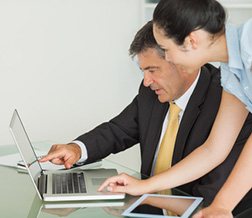 Sexual advances, requests for sexual favors, and other verbal or physical conduct of a sexual nature constitute sexual harassment when: 1. Submission to such conduct is made either explicitly or implicitly a term or condition of an individual's employment; 2. Submission to or rejection of such conduct by an individual is used or is threatened to be used as the basis for employment decisions affecting such individual, or; 3. Such conduct has the purpose or effect of interfering with any individual's work performance or creating an intimidating, hostile, or offensive working environment.
A sexual assault may lead to employer liability if it is workplace related even if it involves acts occurring elsewhere. For example, in one federal case, the rape of a female flight attendant by a male flight attendant in a hotel room the airline provided during a layover in a foreign country occurred in a "work environment" under at least federal law. The court reasoned that layovers are frequent and employees have little opportunity to "develop private lives in that place." It is likely crew members will "band together" and socialize in one another's hotel rooms. Accordingly, the sexual assault was workplace related. In another case, a supervisor's statutory rape of a minor employee occurred at his apartment. It was still workplace related sexual harassment because their relationship began with flirtatious talk and erotic touching while at work. The sexual act need not be committed in the workplace to have employment law consequences.
If you are the victim of a sexual assault, work related or otherwise, or the victim of sexual harassment in the workplace, you should contact an attorney right away to know your rights. Our initial consultation is free and otherwise at no-risk to you.
San Fernando Valley CA Employment Lawyers
If you feel you are the victim of sexual harassment or the victim of an unwelcome sexual advance, contact one of our San Fernando Valley employment lawyers by sending us an e-mail or giving us a call at 818.788.1123.
After a brief initial intake, an attorney will consult with you right away. If we represent you, an experienced Los Angeles sexual harassment attorney will guide your case and be available to consult with you at all times.