Los Angeles Sexual Harassment Attorneys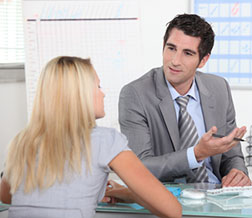 Every job includes aspects we do not like and we choose to ignore, accept and find ways to deal with it. Sexual harassment is not one of them. No one should ever tolerate sexual harassment in the workplace. When confronting sexual harassment: 1. Object, 2. Report and 3. Record. Make your objection to the offending conduct known. You still have a claim even if you do not object, but objecting is the right thing to do and it does help legally. Report the offending conduct to human resources, another supervisor or someone in the company that is in a position of authority to either investigate or initiate an investigation about the sexual harassment. Keep all evidence of the sexual harassment such as emails and voicemails. Ideally, you should make some formal record at work concerning the sexual harassment and your complaint. Individually you should also consider maintaining a journal concerning the experience.
Ignored, sexual harassment in the workplace does not go away. Every employee should be aware of what sexual harassment is, and should be alert to its presence in the workplace, and not be afraid to take action to resolve it if it is present.
Contact our Experienced CA Employment Law Firm
If you feel you are the victim of sexual harassment or the victim of an unwelcome sexual advance, contact one of our San Fernando Valley employment lawyers by sending us an e-mail or giving us a call at 818.788.1123.
After a brief initial intake, an attorney will consult with you right away. If we represent you, an experienced attorney will guide your case and be available to consult with you at all times.
DON'T LET SEXUAL HARASSMENT IN THE WORKPLACE GO UNCONTESTED. OUR LOS ANGELES SEXUAL HARASSMENT ATTORNEYS ARE FORCEFUL ADVOCATES THAT WILL HELP YOU ENFORCE YOUR LEGAL RIGHTS. IF WE REPRESENT YOU, WE WILL PRESENT YOUR CLAIMS WITH DEDICATION, DETERMINATION AND DILIGENCE. WITH MORE THAN 30 YEARS OF EXPERIENCE, WE KNOW HOW TO NAVIGATE YOUR CLAIM TOWARDS A SUCCESSFUL OUTCOME.