Los Angeles Sexual Harassment Attorney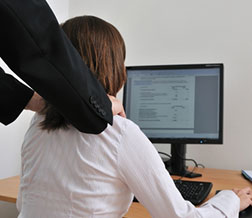 California law requires employers to "take all reasonable steps necessary to prevent … harassment from occurring." With limited exceptions, California employers must display a poster on the illegality of sexual harassment in the workplace and distribute an information sheet on sexual harassment to all employees. California employers with at least 50 employees must provide all supervisory employees located in California with at least 2 hours of classroom or "interactive" training regarding sexual harassment prevention and correction. This training must be provided at least once every 2 years; new supervisory employees must receive such training within 6 months after being hired.
Experienced Los Angeles Employment Lawyers
If you feel you are the victim of sexual harassment or some of other form of harassment in the workplace that is motivated by your race, religion, national origin, gender, sexual orientation, disability or other protected category, please contact one of our Los Angeles employment lawyersby sending us an e-mail or giving us a call at 818.788.1123.
After a brief initial intake, an attorney will consult with you right away. If we represent you, an experienced attorney will guide your case and be available to consult with you at all times.
DON'T LET SEXUAL HARASSMENT IN THE WORKPLACE GO UNCONTESTED. OUR LOS ANGELES SEXUAL HARASSMENT ATTORNEYS ARE FORCEFUL ADVOCATES THAT WILL HELP YOU ENFORCE YOUR LEGAL RIGHTS. IF WE REPRESENT YOU, WE WILL PRESENT YOUR CLAIMS WITH DEDICATION, DETERMINATION AND DILIGENCE. WITH MORE THAN 30 YEARS OF EXPERIENCE, WE KNOW HOW TO NAVIGATE YOUR CLAIM TOWARDS A SUCCESSFUL OUTCOME.