Los Angeles Child Injury Attorney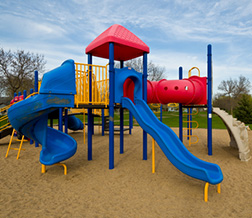 Serious injuries suffered by children are emotionally devastating. If a child has suffered a serious injury, it is necessary to contact an experienced Los Angeles child injury attorney.
Typically, a case involving an injury to a child captures a unique set of legal issues that covers multiple legal areas, including premises and product liability. The Southern CA personal injury law firm of T. Joshua Ritz & Associates, Inc. Attorneys-At-Law are experts at navigating the extremely emotional and trying aspects of a child's serious injury, while preparing the most effective case strategy possible.  Rest assured that as a client you will receive the personal attention and sensitivity your child injury claim demands.
Children can suffer significant injuries in a wide variety of locations and situations including:
Day Care Centers
Playgrounds
Schools
Hospitals
Swimming Pools
Streets
Sidewalks or Crosswalks
Injuries are typically caused by either an unsafe property condition or a failure to properly supervise children in care or recreation centers. This can happen because the facility is understaffed, poorly managed or the staff has not been trained properly on allergy precautions, defective or dangerous toys, or procedures to follow when the children are around animals. Day care centers must also protect children from encountering unprotected entrances or stairwells, contact with toxic chemicals, sharp objects like knives, unsafe furniture that contains splinters, rusty nails or lead paint, dangling window blind cords, recalled children's toys, cribs and furniture.
If your child's injuries occurred at a public school facility, there are special time limitations for you to file a claim. It is in your best interest to get an experienced Los Angeles child injury attorney involved at the earliest possible time. Your attorney can investigate the circumstances that led to your child being injured and accurately assess liability.
Contact our firm by completing the email form on this website or call us at 818.788.1123. We offer a free consultation.